Burns patient Roberta treated many times over the years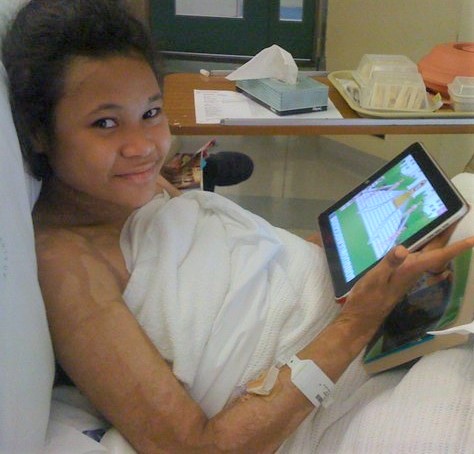 Roberta was injured in May 2011 when kerosene exploded while she was cooking at home in Fiji. Dr Jitoko Cama, at the Suva Hospital, sought assistance from both ROMAC and Children First Foundation, with whom ROMAC has an agreement of cooperation. Since no intensive care beds were available in Australia or New Zealand, Dr Cama welcomed Dr Harvey's offer to assist his team in Suva. ROMAC and Children First joined forces to provide funds for flights and medical equipment.
During the next twelve months, Dr Harvey flew to Fiji nine times and Roberta underwent a total of fifteen operations. Thanks to her remarkable determination and will to survive, Roberta was sufficiently recovered to fly to Westmead Children's Hospital in August 2012 for follow-up surgery. Further success and Roberta was able to walk for the first time since she was injured. She and her mother were thrilled to be interviewed on TV's "7.30 Report". Roberta returned home to Fiji and to a new future. ROMAC is most appreciative of Dr Harvey's expertise and dedication in burns treatment.
More Patients Stories from Fiji