A Tiny Tot From Vanuatu Now has a Future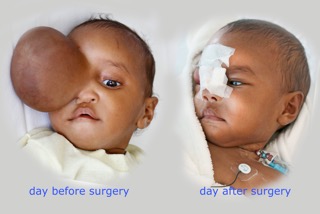 Five months old Linda arrived from Vanuatu with her mother Talia and was operated on three days later to remove an encephalocele (herniated brain) over her eyes. On arrival with her mother, Linda's face was covered with a scarf to hide her baby's appearance.
The neurosurgical team at Starship Hospital had a big challenge but their professionalism and surgical experience was superb. (An encelphalocele is a congenital brain hernia with a frontal skull defect – in Linda's case it was in her skull above her nose).
It was a real thrill for Talia to see the growth removed, even though it was not possible to restore sight in Linda's right eye. Linda will need to have reconstructive surgery and the NZ ROMAC team will get her back later for cosmetic work on her face. Dr Peter Heppner, (Paediactric Neurosurgeon) treated Linda.A very uplifting story and a very happy mother and her baby have now returned home to Vanuatu.
More Patients Stories from Vanuatu