A future ahead for brave Celestina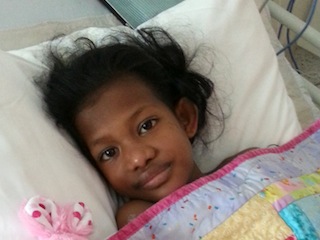 Working together we can achieve miracles!
ROMAC teamed up with the new Global Program at Royal Children's Hospital, Melbourne, and Children's First Foundation to not only save a life but to make a whole new future for Tina.
Celestina (Tina) Dias was born with a rare condition called Ellis van Cresveld syndrome. Typical signs of this disease are abnormalities in the heart, abnormal formation of the limbs and an extra finger. Tina had all three of these, but only her heart condition was life-threatening so ROMAC paid for her heart surgery as the very first patient to be treated under the new Global Program at Royal Children's Hospital, Melbourne. Tina had an Atrial Septal Defect (ASD) repaired and after only six days in hospital she was discharged.
In the mean time orthopaedic specialist, Mr Leo Donnan, said he could operate on her legs to straighten them, but this would mean long-term treatment requiring surgery and then months in a ilizarov frame to straighten the bones. Tina and her parents, after a lot of education and discussion, decided they would like to take up this option. Because of the daily care and physiotherapy needed, we discussed Tina's case with Children First Foundation and they agreed to take her so she could live at their farm in Kilmore, where she has her daily exercises supervised.
Tina has endured a lot but she is a wonderful, determined little girl who has taken every challenge in her stride. She is speaking fluent English, participates in school lessons, helps out with chores and has made many friends . This intelligent, bubbly little girl now faces a future filled with potential achievements and is looking forward to returning home to East Timor at the end of the year.
ROMAC thanks everybody who has worked together to help this wonderful child.
More Patients Stories from East Timor