Adelaide responds to urgent surgery call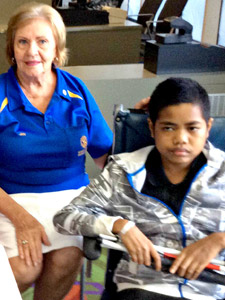 Isac, an extremely ill 14y.o. boy from Timor-Leste was referred to ROMAC with a suspected benign brain lesion. He had lost all sight in his left-eye and had only partial sight in the right-eye. Isac needed urgent surgery, otherwise he would lose all sight. Specialist neurosurgeon Dr Cindy Molloy at the Adelaide Women's and Children's Hospital accepted Isac for treatment.
Scans revealed a tumour that was fully excised in a 5-hour operation and post-op pathology results confirmed the cause to be tuberculosis (TB).
Once cleared of infection, Isac was discharged from hospital and hosted with his carer, and assisted by members of the Rotary Club of Salisbury. He had a one-day stopover in Darwin on the way home so doctors could assess the best continuing medication that would be available in Timor-Leste.
Isac still has limited, but now, stable sight in his right eye and has recovered well from his life-threatening tumour.
More Patients Stories from East Timor