Miraculous surgical treatment saves Teretoriano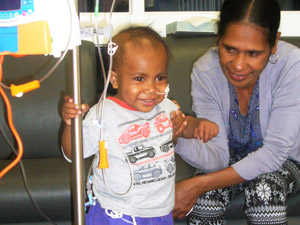 Teretoriano was referred to ROMAC by the Biro Pite Clinic in Timor-Leste. He had been diagnosed with a Wilm's tumour of the kidney. As his mother had suffered TB, Teretoriano's grandmother Claudina had to accompanied him. He arrived very ill and had to have immediate surgery at Monash Children's Hospital, Melbourne as the tumour was so large it was pressing on his other vital organs, including his heart.
Thanks to the amazing effort of the surgical team from Monash Children's hospital lead by Prof Kimber plus Teretoriano's own fighting spirit, he was able to come through this enormous ordeal.
Unfortunately his tumour was more aggressive than previously thought. He now required very high-dose chemotherapy. To add to the complexity, Teretoriano was also found to have TB and his little heart was not yet strong. Initial chemotherapy treatment had to be revised so it would not interfere with his TB treatment or his heart. Gradually his heart got stronger, his TB came under control and and he was able to have more aggressive chemotherapy for his cancer. For 6-months Dr Downie, paediatric oncologist and his dedicated team at Monash looked after Teretoriano until his return home..
Very dedicated host parents, Rotarians Diane and Bill, looked after Teretoriano and Claudina lovingly and tirelessly. They were rewarded seeing a totally different child, a healthy, alert, vibrant and very active 2-year-old return home.
More Patients Stories from East Timor