Baby Quivania complex condition no barrier for ROMAC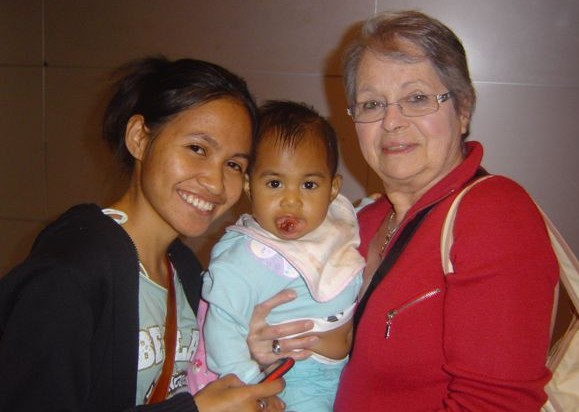 After arriving from Timor Leste, baby Quivania and her mother Ana, pictured with Liane Corbett ROMAC District helper, were in the care of Dr David Lord at Children's Hospital, Westmead. Dr. Lord's specialty is Paediatric Interventional Radiology and Medical Imaging.
It was initially thought that Plastic surgery by Dr Peter Heyward would be the solution to this baby's tongue lesion. An MRI scan was taken, and it was decided after examination that Quivania was too under-developed to cope with necessary surgery. Drs Heyward and Lord decided to try sclerosing injections. Dr Lord did the first of the injections whilst Quivania was under anaesthetic. She spent five days in ICU and five days in the ward.
She was discharged and went home to East Timor a week later with discharge instructions from the Dietician. They later returned from East Timor for further tongue sclerotherapy under anaesthetic but reduction in the lesion was not achieved. Quivania and Ana stayed with an East Timorese family whilst her progress was under observation.
After 8 weeks, Quivania was admitted to Westmead for a third round of sclerotherapy, using a different injection and the lesion became much smaller. Each sclerotherapy required 4 to 5 days in ICU with a further 4 to 8 days in the ward. Much time was spent monitoring Quivania's diet and teaching her mother techniques to keep the tongue clean and free of infection. Dr Heyward, who did the final examination before she went home, expects her tongue to continue to improve and become naturally pink all over.
They were preparing to return to East Timor when Quivania began to speak, saying "Dada" and "Mama". This was a wonderful thrill for Ana. Great care and support was rendered to Ana and little Quivania by Liane Corbett, then President of the Rotary Club of North Ryde.
Liane farewelled them both at the airport before their trip home to Dili.
More Patients Stories from East Timor