Complex heart surgery for Junitalia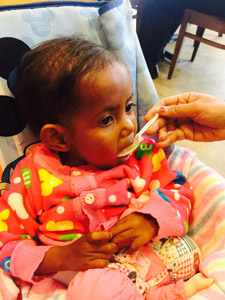 Two-year-old Junitalia from Timor-Leste was a very sick little girl. She was diagnosed with a Tetralogy of Fallot (ToF) which meant her little heart had multiple problems and required urgent open heart surgery. Junitalia was referred to ROMAC for assistance.
In preparing logistics it was discovered that her mother had a shadow on her lungs (likely TB), so rather than risk delays with immigration it was decided her aunt Estelita should accompany Junitalia instead of her mother.
On arrival in Sydney Junitalia presented very underweight, tired and with no energy. Many tests were required. They were home hosted by ROMAC District Chair Maria. In this family environment, they concentrated on strengthening her in preparation for surgery.
After 9-hours of surgery led by Dr Peter Grant, at the Sydney Children's Hospital Randwick, she was transferred to PICU (Paediatric Intensive Care Unit) and soon after placed into an induced coma. It must be remembered that 2y.o. Junitalia weighed less than 8kg and so the coma provided the environment to reduce many pressures on her little system whilst also providing the ideal environment to build her organ-strength with appropriate sustenance.
After 12 days in PICU, Junitalia had recovered well from surgery, but now needed to regain her physical strength. Going to physiotherapy at the hospital, as well as walking behind her doll stroller, daily sitting and standing exercises, plus going to the park and climbing were many of this 2-year-old's 'body building' activities after she left hospital.
Home host Maria, thanked Dr Grant, Dr Forsey, Catherine and all the staff at the Sydney Children's Hospital Randwick, the Timor-Leste Consulate, chef Celine and all Rotarians who helped make this miracle possible.
"Estelita was a wonderful 'mother' for Junitalia", said Maria. "Aunty was very grateful for ROMAC's help and she wants to talk to families in Timor-Leste, on what to expect when they come to Australia and not to be afraid" Maria added "it reinforces the huge value of ROMAC's voluntary work and the very positive effect it has on providing Life-Giving surgery for a child". This positive message is taken back home to a small village environment and provides hope for other families who children may have similar life-threatening conditions.
They returned home to Timor-Leste and a follow-up full medical check confirmed, "Junitalia is progressing brilliantly".
More Patients Stories from East Timor