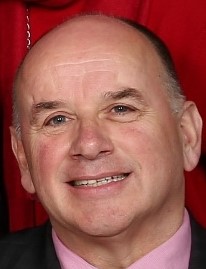 David McPherson
District Governor Representative
David McPherson, from District 9790, has been involved in community service activities most of his life having been in Cubs, Scouts, Venturers (earning a Queens Scout award) as well as Rotaract, Leo's (on the Lions District board) and Apex where he was awarded Life Membership in 2005. He joined Rotary in 2010 and is a member of the Rotary Club of Deniliquin in District 9790.
A car accident when he was 8 years old confined David to a wheelchair as a paraplegic, but that did not stop him from becoming a successful medical scientist and sportsman.  He has represented Australia at various national and international sporting events, including two Paralympics and one Commonwealth games, competing in swimming and track sprinting winning a gold, three silver and three bronze medals.  He has also been active in snow skiing from an early age. His father, George McPherson, built a sit ski for him which enabled him to become to first paraplegic to sit ski in Australia in 1985 at Mt Hotham. David was also on the team to compete in the 1992 Winter Paralympics but had to withdraw due to injury.
Professionally, David gained university qualifications in Medical Laboratory Science through Charles Sturt University at Wagga. His first job was as a Technical Officer at Goulburn Base where he worked for 6 years before successfully gaining the position of Chief Hospital Scientist at Deniliquin Hospital. After 32 years in that position David officially retired in July 2020.
David has two children (twins) Lily & Liam who are university students at ANU.