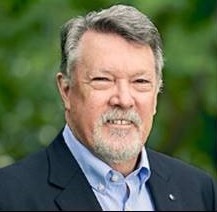 Stephen Noble is a Chartered Accountant who is in public practice in Adelaide. He is also qualified as a Financial Adviser and is a Registered Company Auditor. Professionally Stephen served on the Institute of Chartered Accountants Regional Board for South Australia and the Northern Territory and was Chairman in 2015-6 and served on the national disciplinary panel of the Institute of Chartered Accountants for a number of years.
He commenced his involvement in Rotary as a member of the Prospect Rotaract Club in 1994 – serving as President in 1997-8. He moved to Waikerie in the Riverland region of South Australia, and he joined the Rotary Club of Waikerie in 1980 – becoming President in 1989-90. He served on the District Committee for District 9520 whilst living at Waikerie. In 2014 he moved his Rotary membership to the Rotary Club of Adelaide and served as Treasurer for District 9500 for three years (2017-2020) and then as a member of the District Finance Committee for the newly merged District 9510 for the 2020-21.
He is married to Denni (a former Rotaractor) with five children and twelve grandchildren. He is still an avid snow skier and enjoys travel, motor sport (driving not viewing) and hiking as leisure activities.